Thermotex Gold Infrared HeatingTherapy Healing Pad (11" X 13") w/ 1 Year Warranty! Thermotex Infrared Infrared Therapy Systems are a patented range of deep tissue infrared heat pads designed to relieve pain, promote healing and accelerate rehabilitation. Unlike conventional hot packs or heat pads that simply heat the surface of the skin by conduction, Thermotex safely delivers FAR infrared thermal energy beneath the surface of the skin. Thermotex re-invents infrared by producing 100% FAR infrared, replacing conventional infrared lamps which emit light from different parts of the electromagnetic spectrum and must therefore be used with caution. In studies the unique subcutaneous heat delivery mechanism of Thermotex has been shown to raise temperatures at depths of 6 cm beneath the surface of the skin after just 20 minutes of use. Thermotex deep tissue infrared heat therapy delivers prolonged heat where it is most needed. This effectively increases blood flow into the targeted area to deliver nutrients and oxygen and to keep tissues healthy while eliminating waste and easing inflammation. We back every Thermotex pad that we sell with our 100% money back guarantee. If you have any questions please call us at (701)223-9936 or Toll Free (800)355-2956.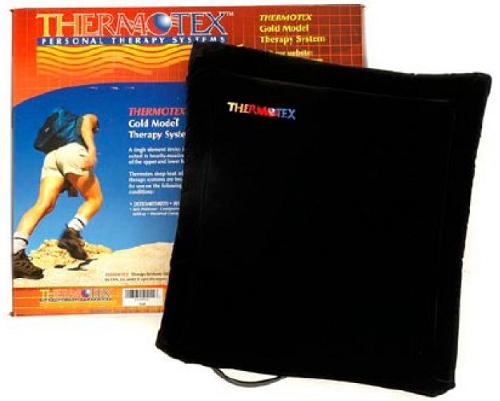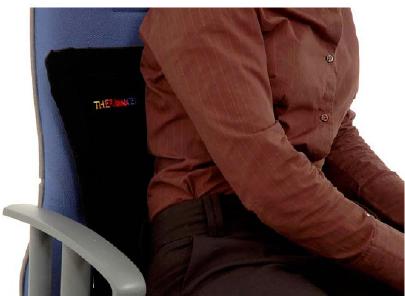 THERMOTEX GOLD is a single element device ideally suited to heavily muscled areas of the back, for use while sitting or lying down. Suitable for use on the upper or lower back. *Ideal for pre treatment use in clinical waiting areas*

FEATURES & SPECIFICATIONS:
- Deep tissue radiant heat creates increased blood flow to where it is needed
- Easy to operate and highly portable
- Convenient to use, in clinics, at home, at work and even in the car
- Can be used over casts or bandage
- Range designed to fit easily on different body parts
- Safe and extremely economical to use
- Size: 11" x 13" - 38.1cm x 40.6cm
- Infrared inserts: 1 (11" x 13")
- Power usage: 35 watts

Thermography is used to measure the radiation of heat. In the following pictures you will see that the initial state of the injured area in each case is showing colder than the surrounding tissue. This is accounted for by the lack of blood flow in that injured area. As the injury is treated and the pain relieved by increasing blood flow, the temperature of the injured area returns to normal.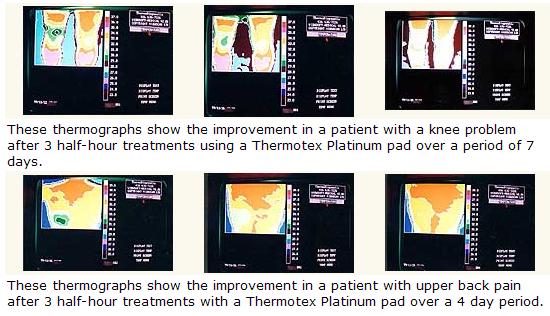 Thermotex Therapy is suitable for the relief of the following conditions:
- Back Pain
- Bursitis
- Tendonitis
- Arthritis
- Sports Injuries
- Joint Stiffness
- Leg Pain
- Shoulder Injuries
- Hamstring Tears
- Calf Injuries
- Thigh Injuries
- Knee Injuries
- Fibromyalgia
- Tennis Elbow
- Muscle Spasms
- Menstrual Cramps
- Hemorrhoids
- Carpal Tunnel Syndrome
- Tendonitis
Be the first to review this product! Have you purchased this product in the past, or have experience with it? Be sure to pass your opinion on to our other users!
You can enjoy additional savings on this product. Simply choose a promotion below, and share it with your friends. Your discount will be applied instantly.
Accepted Payment Methods
Shipping & Handling
| | |
| --- | --- |
| Store Location | Bismarck, ND |
| Ships within | 7 business days |
| Shipping Options | Standard Shipping (3-7 days) |
| Ships to | Contiguous U.S., AK, HI, PR, APO/FPO/DPO, PO Boxes |
Shipping Rates
Order Total Price Range
Shipping Cost
Contiguous Us Standard
$0.01 - and higher
$8.00
Non Contiguous Us Standard
$0.01 - and higher
$20.00
Military Standard
$0.01 - and higher
$20.00
Po Box Standard
$0.01 - and higher
$15.00
Shipping & Payment Policies
All items take 7-10 business days or 14 calendar days to arrive inside the USA via ground shipping.
Returns Policy
Item(s) must be returned within 10 days after arrival.
Refund will be given as: Refund Money.


Products must be returned in new and unused condition and must include any and all product packaging, instruction manuals, blank warranty cards and or accessories.
Returns must include customer's complete name, address, phone number and explanation as to why the product is being returned.
Returns received that do not meet the above criteria will be shipped back to the customer at their expense.
All products must be returned within 10 days of receipt or a 20% restocking fee will apply.
Balkowitsch Enterprises, Inc, reserves the right to change our return policy at any time without, incurring any obligations to make the reserved terms applicable to products previously sold.
This return policy does not apply to special order, personalized, custom made or homeopathic products.
Warranty Information
Warranty Duration: 1 year(s).
All items have a 1 year warranty unless otherwised specified.