Comes in your choice of Sand, Chocolate Stripe, and Chocolate colors, please specify color with payment. The orthopedic material and design is aiding pets all around the country in living more comfortable and healthy lives. These revolutionary pet beds are the ultimate in comfort, durability and innovation. Our Gel-Pedic pet beds are made with a new patented material, GelFoam. GelFoam is an orthopedic material that is more dense, resilient and premium than memory foam. GelFoam molds to your pets body, easing the pressure on their legs and hips. Originally designed for older animals, animals with hip dysplasia, arthritis, or other joint related ailments, the Gel-Pedic pet bed will aid in the treatment of these aliments or just properly pamper your loved pet.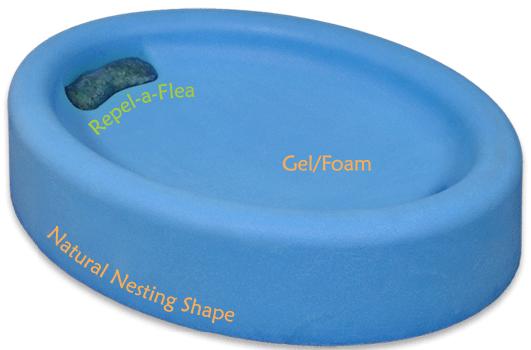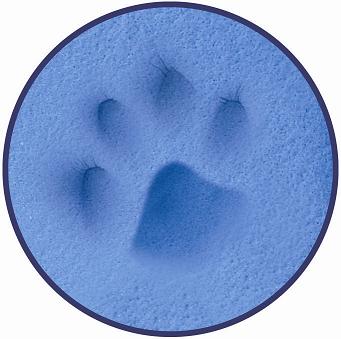 NATURAL NESTING SHAPE: GelFoam keeps your pet warm in the winter and cool in the summer by absorbing the ambient temperature. The oval natural nesting shape provides the contour for superior comfort and security.

REPEL-A-FLEA: Gel-Pedic pet beds utilize an organic flea and mite control system called Repel-a-Flea. Each bed includes removable eucalyptus packets that help drive away fleas and mites.

WASHABLE COVER: Remove cover. Machine wash in cold water on delicate while zipped. Lay flat to dry. Do not wash GelFoam.

How does the GelFoam adjust to my pet's body temperature?
The properties of the Gel-Pedic pet bed work in accordance to the laws of thermal equilibrium. When two objects are in thermal equilibrium they have reached the same temperature. During the process of reaching thermal equilibrium, heat, which is a form of energy, is transferred between the two objects. It is understood that the denser an object is, the faster the heat transfers through it. The natural properties of the Gel-Pedic bed are made from polyurethane GelFoam which is one of the densest bedding materials on the market. Naturally a dogs body temperature should be between 101F -102F. If the pets body is cold during the winter and the exterior temperature is dramatically cooler, the Gel-Pedic bed does an efficient job of insulating the pet because the cold travels slowly through the dead air space in the GelFoam cells making the bed warm. In addition, the new gel effect of the bed keeps pets cool during the summer months. As discussed previously, the bed's skin or outer surface is very dense. When the pets body temperature is dramatically warmer than the beds skin (which is at room temperature), the GelFoam will naturally pull heat from the pet much faster than with standard bedding materials giving a cooling effect to the animal. This makes the Gel-Pedic bed a more efficient product than the standard poly-fill pet beds that are less dense.

Can the Gel-Pedic bed help my pet's hip dysplasia?
Gel-Pedic pet beds are specially designed with premium GelFoam that provides superior comfort for aging, ailing, and arthritic suffering pets. The GelFoam molds and shapes to the contour of your pet's hips, and joints to relieve pressure that can cause pain and discomfort. The Gel-Pedic pet bed utilizes natural eucalyptus to repel fleas, mites, and ticks from your pet's bed, while providing aromatic freshness.
Be the first to review this product! Have you purchased this product in the past, or have experience with it? Be sure to pass your opinion on to our other users!
You can enjoy additional savings on this product. Simply choose a promotion below, and share it with your friends. Your discount will be applied instantly.
Accepted Payment Methods
Shipping & Handling
| | |
| --- | --- |
| Store Location | Bismarck, ND |
| Ships within | 7 business days |
| Shipping Options | Standard Shipping (3-7 days) |
| Ships to | Contiguous U.S., AK, HI, PR, APO/FPO/DPO, PO Boxes |
Shipping Rates
Order Total Price Range
Shipping Cost
Contiguous Us Standard
$0.01 - and higher
$8.00
Non Contiguous Us Standard
$0.01 - and higher
$20.00
Military Standard
$0.01 - and higher
$20.00
Po Box Standard
$0.01 - and higher
$15.00
Shipping & Payment Policies
All items take 7-10 business days or 14 calendar days to arrive inside the USA via ground shipping.
Returns Policy
Item(s) must be returned within 10 days after arrival.
Refund will be given as: Refund Money.


Products must be returned in new and unused condition and must include any and all product packaging, instruction manuals, blank warranty cards and or accessories.
Returns must include customer's complete name, address, phone number and explanation as to why the product is being returned.
Returns received that do not meet the above criteria will be shipped back to the customer at their expense.
All products must be returned within 10 days of receipt or a 20% restocking fee will apply.
Balkowitsch Enterprises, Inc, reserves the right to change our return policy at any time without, incurring any obligations to make the reserved terms applicable to products previously sold.
This return policy does not apply to special order, personalized, custom made or homeopathic products.
Warranty Information
Warranty Duration: 1 year(s).
All items have a 1 year warranty unless otherwised specified.